M-Commerce or Mobile Commerce
M-Commerce or Mobile Commerce is the term used to describe the activity of conducting commerce through mobile devices such as smartphones. Using mobile devices in this way continues to increase in popularity.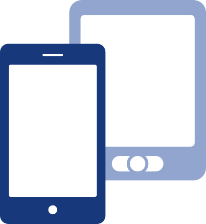 This is evident in recent reports which indicate that mobile networks around the world continue to grow in size. Research by ComScore found that up until November 2011, 38% of smart phone users made at least one purchase using their phones. This is a clear indication that Mobile Commerce is on the rise and should be part of any plans you make for your online store, so that you reach more customers.
Mobile Commerce has huge potential if you adapt to this technology now. nopCommerce in particular, gives you the opportunity to benefit greatly from these changes to the way people purchase products and services. It's compatible with all types of connected devices. No additional development or customization is required either to use this system on various devices.
This application is able to detect the device used when someone visits an online store that uses nopCommerce. This means each user has the best shopping experience possible because the application presents an appealing interface for each type of device. Customers using a wide range of devices can easily navigate an online store which increases the likelihood of online sales.